Hey eSkaters,
I have the new Raldey WASP electric skateboard.
Well, really, it's more like an electric mountainboard.
You can see that it has elements taken from Trampa, KalyNYC and La Croix.
But, you won't pay anywhere near the price of those premium eboards.
The Raldey WASP is priced at $1,799 which is still quite a lot of money, however, the value you get from this electric mountainboard is pretty insane.
Plus, you can take an extra $10 OFF if you use my discount code ESKATEHUB, which also helps me out a little bit.
This eboard has been known as a few different identities. 
Daniel Kwan released his review back when it was called the Raldey P-Bee Pro. Which quite the mouthful.
Then they were going to release it under a different brand entirely, called ESKI.
But in the end, they decided on going with Raldey WASP.
Which I think is a great name. Nice and simple, and it's not another GT-R Pro V4 S type name.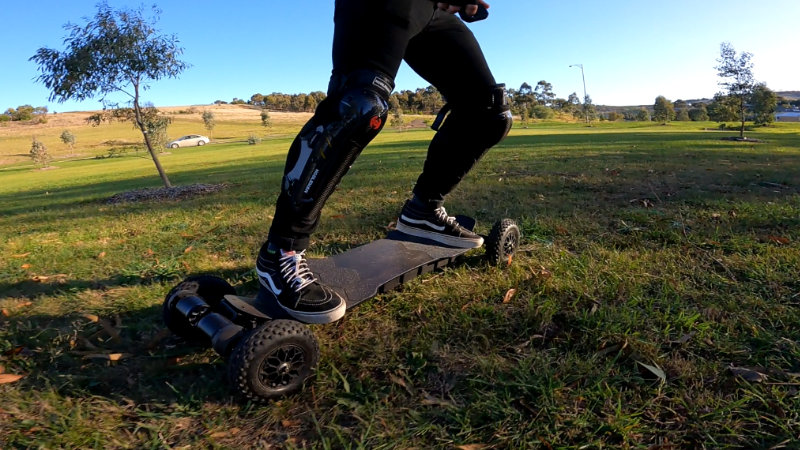 Who Is It For?
The Raldey WASP is an electric mountainboard, so it's designed to ride the toughest terrains.
If you want an eboard that you can take out and rip up some off road trails, then this is it.
It's also great on roads and paved paths because it's keeps you really steady and is comfortable to ride due to all of its shock absorbing technology built-in.
Raldey WASP Review
The Raldey WASP is loaded up with a 12S4P 907.2Wh battery and dual 1500W 6374 belt-drive motors, all controlled by a LingYi VESC.
These are big specs and they're marketed to get you a range of 35 miles / 56km 
A top speed of 39mph / 62kmh
And climb hills with a grade of 40%.
This is insane for an eboard of this price.
I took it out for an initial ride and I ended up riding for 11 miles / 18km and I had only chewed through a fifth of the battery.

I was out on a good mix of road and complex trails, so I really put the board through its paces.
So to see that I have plenty of battery left after that pretty much removes my range anxiety completely.
I attempted the top speed test, but I do kind of value my life so I'm sorry, but I didn't it push it to max.
I'm just not confident enough and as it turns out, the ground is pretty hard when you hit it.
The max I reached was 28.3mph / 45.7kmh and that was plenty enough for me.
There was a ton of room left in the throttle, so you crazy kids out there will have a field day on this eboard.
One thing I will mention is that I didn't experience any speed wobbles which is a great sign. The faster you go, the more likely you'll encounter speed wobbles, but a well-setup board can reduce the chances dramatically.
Climbing ability on the Raldey WASP is a non-issue. It hammered up my regular testing hill at about 17mph / 28kmh without any problems.
I also took it up a pretty gnarly off road incline that had a lot of protruding rocks and crevices and I was able to finesse my way up quite easily.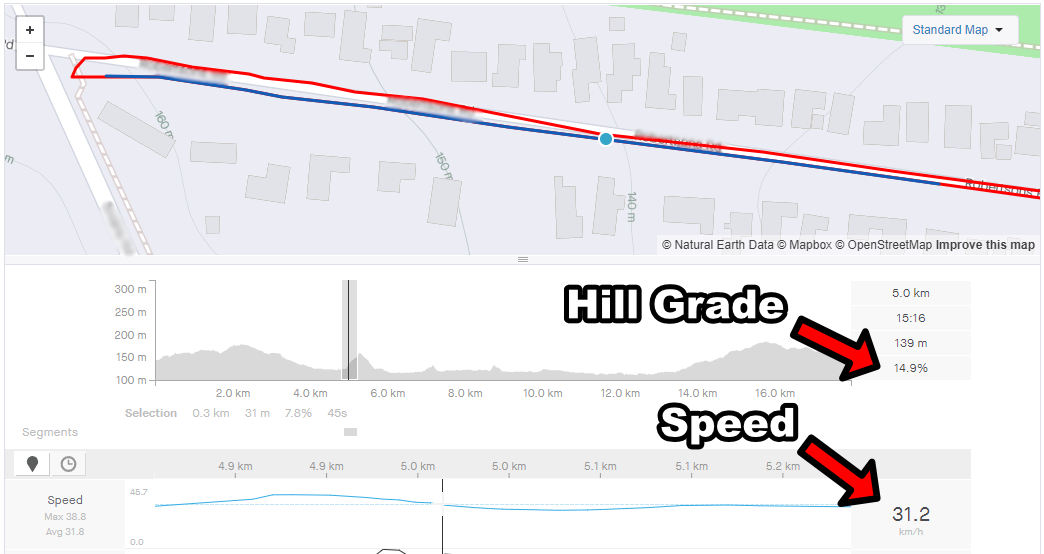 The deck is 38.5" long and made of carbon fiber making it very flexy but durable at the same time.
It has a max load limit of 661lbs / 300kg which is one of the highest I've ever seen. And considering how thin the deck is, it's quite impressive.
Because of its concave and dropdown shape, the standing width is 30" which for me, at slightly under 6', is perfect.
You really feel like you're locked into the board giving you confidence that your feet aren't going to slip around, so you can spend more time concentrating on the trail and the approaching obstacles rather than constantly dipping your head to check your feet position.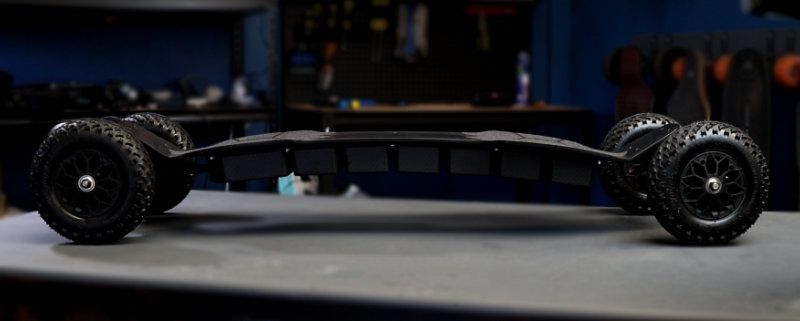 The enclosure underneath has an accordion design that allows the electronics to stay protected while maintaining flexibility in the deck.
It also has an IP65 ingress rating meaning it is dust tight and can withstand a stream of water from any direction.
That's pretty impressive, and by that rating, you should be able to ride it through puddles and in the rain.
It has 12" CNC and forged MBS trucks which aren't at all like your regular eskate trucks.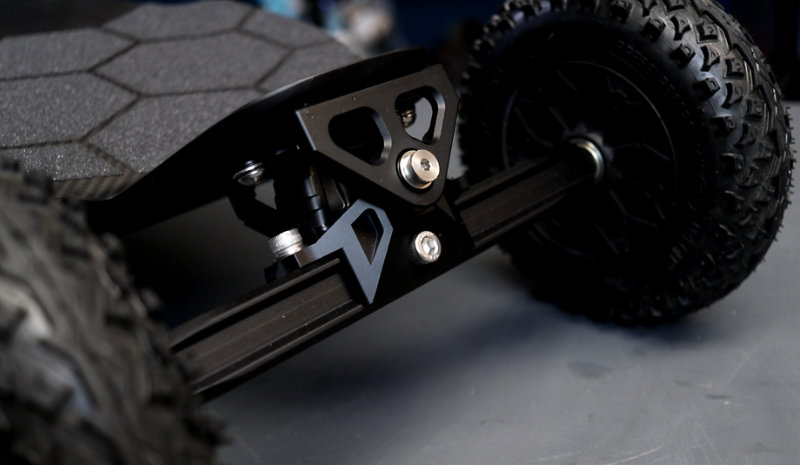 They're designed for bombing mountains so they're really stable at high speeds, however, they have a really wide turning circle.
A big part of this is because of a part in the trucks called the shock blocks.
They're pretty much the equivalent of bushings on regular trucks.
These shock blocks that come with the WASP are supposed to be 80A hardness, but they feel a lot harder than that.
I'd highly recommend buying a different set of MBS Shock Blocks in either Medium orange or even Soft yellow.
They're only $30 and will increase the quality of your ride experience significantly.
You'll actually be able to make turns and even do some carving.
The 200mm pneumatic wheels are great.
They're nice and knobbly which help to keep traction on off road trails and they also provide some shock-absorbption.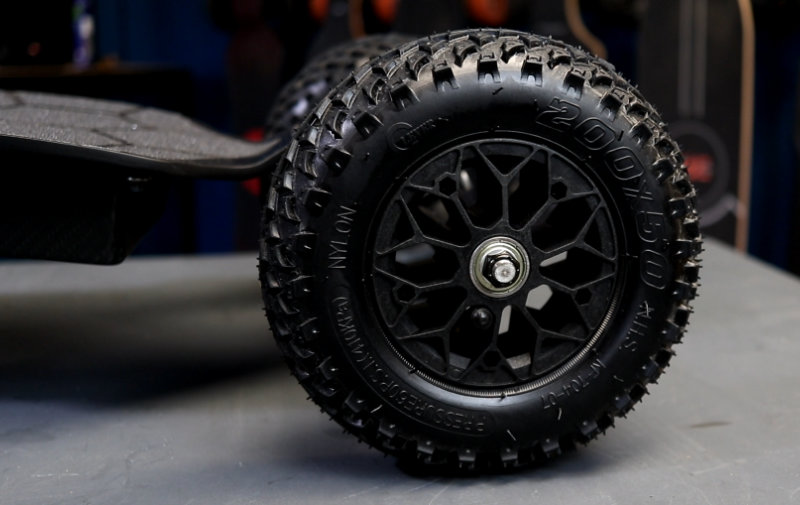 The remote is fairly standard and one we've seen before.
It has an LED screen that displays the battery levels for the board and remote, speedometer, odometer, trip length, speed mode and braking mode.
It has 4 speed modes and 4 braking modes, reverse and cruise control.
Something to keep in mind is that you can change the speed mode while you're accelerating and even while you're in cruise control.
So, when you're riding, you just need to be careful that you don't accidentally click the mode button because you could end up on your ass.
What Could Be Better
Continuing on with the remote problem, it could easily be fixed by disabling the mode button while the thumbwheel is engaged.
And disabling it completely when you're in cruise control mode.
Aside from that the only other issue I had with the Raldey WASP was the stiffness of the Shock Blocks. They're just way too hard for everyday eskating.
Perfect for super hi-speed riding in a straight line, but the moment you want to go on a trail where agility is required for tight turns, the WASP falls short.
Luckily, you can fix this yourself cheaply by getting a good set of MBS Shock Blocks.
Final Thoughts
Overall, the Raldey WASP is a great off road electric mountainboard.
The moment you replace the shock blocks, you'll have an insanely good electric skateboard that is capable of riding any terrain you take it on.
It's fast, has plenty of range, it's comfortable and seems to be well-built.
I can see myself grabbing this mountainboard and hitting the back trails with my dogs on a weekend.
It's also just great to see brands offering more affordable options of the high-end premium eboards. It really opens up the sport to more riders.
---